Rangeley Water District
Address
15 Vernon Bean Rd.
Rangeley, ME 04970
Contact Information
Al Clinch
Mailing Address
P. O. Box 989
Rangeley, ME 04970
Hours of Operation
| | |
| --- | --- |
| Sun | Closed |
| Mon - Fri | 7:00 AM - 4:00 PM |
| Sat | Closed |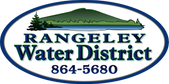 Description
We are the Rangeley Water District, providing clean, affordable drinking water and fire protection to Rangeley, Maine and the surounding areas. Contact us to see how we improve the lives of our customers every day!
The Rangeley Water District was chartered by the state of Maine in 1992, but was founded as the Rangeley Water Company in 1905. Countless updates have been made since the water system's humble beginnings, including many sections of ductile iron pipe, valves, hydrants, and meters. The most significant improvements were made in 1997, with the inclusion and installation of a new gravel packed well, miles of new transmission lines, and a 500,000 gallon concrete reservoir.
For the last twenty plus years, the District has been able to deliver exceptional water, to a wonderful community and its visitors.